Read Detail
Position: Home > News
Strength circle powder "Chengdu Trade Fair"
Keyword:Pre-sewing equipment View:0 Time:2019/8/31 10:14:52
China (Chengdu) International Modern Industrial Technology Exposition, known as "Chengdu Trade Fair", was held in Chengdu from June 13 to 15. Shenzhen Zhongsheng won the battle for prosperity. Through exhibits, the manufacturing industry in the southwestern region showed its strong technological innovation ability and practical scheme in the control and industrial robot products, which received a good response from the audience.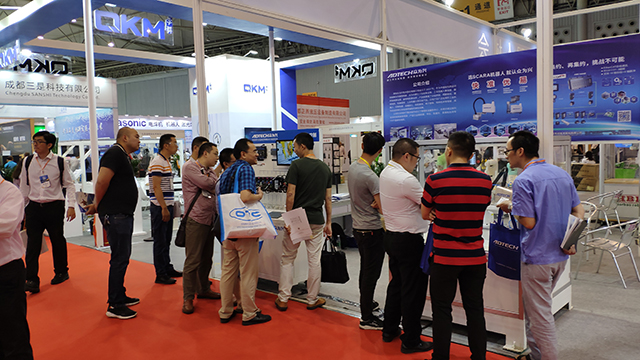 It is understood that, as one of the most professional industrial exhibitions in the southwest region, the exhibition has been successfully held for six sessions so far. The reason why the exhibition lasts for a long time lies in Chengdu and its surrounding areas, which have a relatively strong industrial foundation and good prospects for development. Under the strategic plan of 2025, Chengdu takes the high-tech industry as the leading factor, highlighting the development of intelligent manufacturing, service-oriented manufacturing and green manufacturing industries. According to media reports, industrial robots in Chengdu grew 4.6 times in the first quarter of this year, becoming the fastest growing industry in the industry.
In this exhibition, the proportion of industrial robots exhibitors is about one third, and the exhibition area is more than half of the total area. This not only shows that the robotics industry is flourishing in Chengdu and even in the southwest region, but also reflects that the local manufacturing industry is in the process of transformation and upgrading, and maintains a strong demand for robots.
The exhibits are carefully selected products and solutions that best meet the local manufacturing characteristics and needs. Through watching the demonstration of GR robot's high-speed handling, the audience understands that Zhongweixing industrial robot not only has compact design, but also represents the high level of domestic SCARA in terms of production rhythm, accuracy and reliability by equipping the QC410 drive and control integrated control system independently developed by Zhongweixing, which makes the handling of robots more and more successful. The more delicate.
The bus control demonstration platform shows the characteristics of AMC1600E bus motion controller vividly. AMC1600E is an open operation and control platform, which supports IEC61131-3 programming, 16-axis bus and 6-axis pulse hybrid control. HMI, IO, DA and AD can be flexibly configured according to the actual situation of customers. Powerful operation and control processing function, with motion trajectory pre-processing planning function, spline curve interpolation, electronic cam and other motion functions.
In this exhibition, we have captured the latest trend of industrial development in Southwest China, identified more specific needs for automation projects, and determined to better product and customer service layout here, making due contributions to the transformation and upgrading of local manufacturing industry.